Universal hanging rack for caravan, camper and motorhome
Our fantastic customers keep us busy and make us a bit out of breath with orders, which currently extends our usual delivery time of one week.
Secure payment
Pay quickly and securely via PayPal, credit card or instant bank transfer
Treat yourself with our hanging shelf more storage space for cell phone, kitchen accessories or decoration
The shelf from Camperboards is an all-rounder that we offer in four heights for numerous models.

You need space in your camper or caravan? Our model is underbuildable and can be mounted quickly thanks to our newly developed mounting solution.

Our hanging shelf adapts to your camper because we offer it in several different edge colors.

It can be installed with or without railing.
Functions of the hanging rack

As a camper, I appreciate a plus of storage space and that's exactly what our shelf offers:

In the kitchen, it can be installed under hanging cabinets and offers space for spices, herbs or kitchen accessories.

Maybe you don't know where to put your glasses, cell phone and tablet. With the hanging shelf from Camperboards, everyday things have their place and still remain handy.

Another tea to fall asleep or reading until the eyes close - we at Camperboards know, a comfortable bed leaves a camper reluctantly. With our hanging shelf, your cup and book will stay safely tucked away overnight.

The shelf is ideal when medical equipment is needed in the camper. It offers enough space for mobile ventilators.


All parts are manufactured by a regional master carpenter company according to our specifications and drawings. CNC-guided work steps guarantee the highest degree of precision and dimensional accuracy.

Our shelf is provided with a high-quality HPL laminate (High Pressure Laminate). This surface is particularly resistant and easy to clean.

Fastening and feet are made of stainless steel.
Our hanging shelf is not delivered pre-assembled and is ready for use with a few simple steps.

All necessary components, as well as a comprehensive, illustrated assembly instructions including a drilling template for the hanging shelf are included. Our screw set is only suitable for 10 to 30mm thick floor plates. Other dimensions have not been considered or tested by us.

This board is mounted with the new mounting solution developed by Camperboards. The fastening has now been secured with a utility model protection and is in the form, only offered and used by Camperboards. With this fastening, 3 screws per flange must be turned into the surface where the shelf is to be placed.

Please select in the menu whether "without railing" or "with railing" desired, then the price is recalculated.

Other colors/decors can also be supplied for a corresponding surcharge.


Dimensions:

600 mm x 250 mm x 23.6 mm

Weight:

Including accessories -> 3000 grams

After installation the usable height is
80mm variant: 96mm
100mm variant: 116mm
120mm variant: 136mm
150mm variant: 166mm
Made in Germany
Highest quality & workmanship
Unique in Europe
Innovation from campers for campers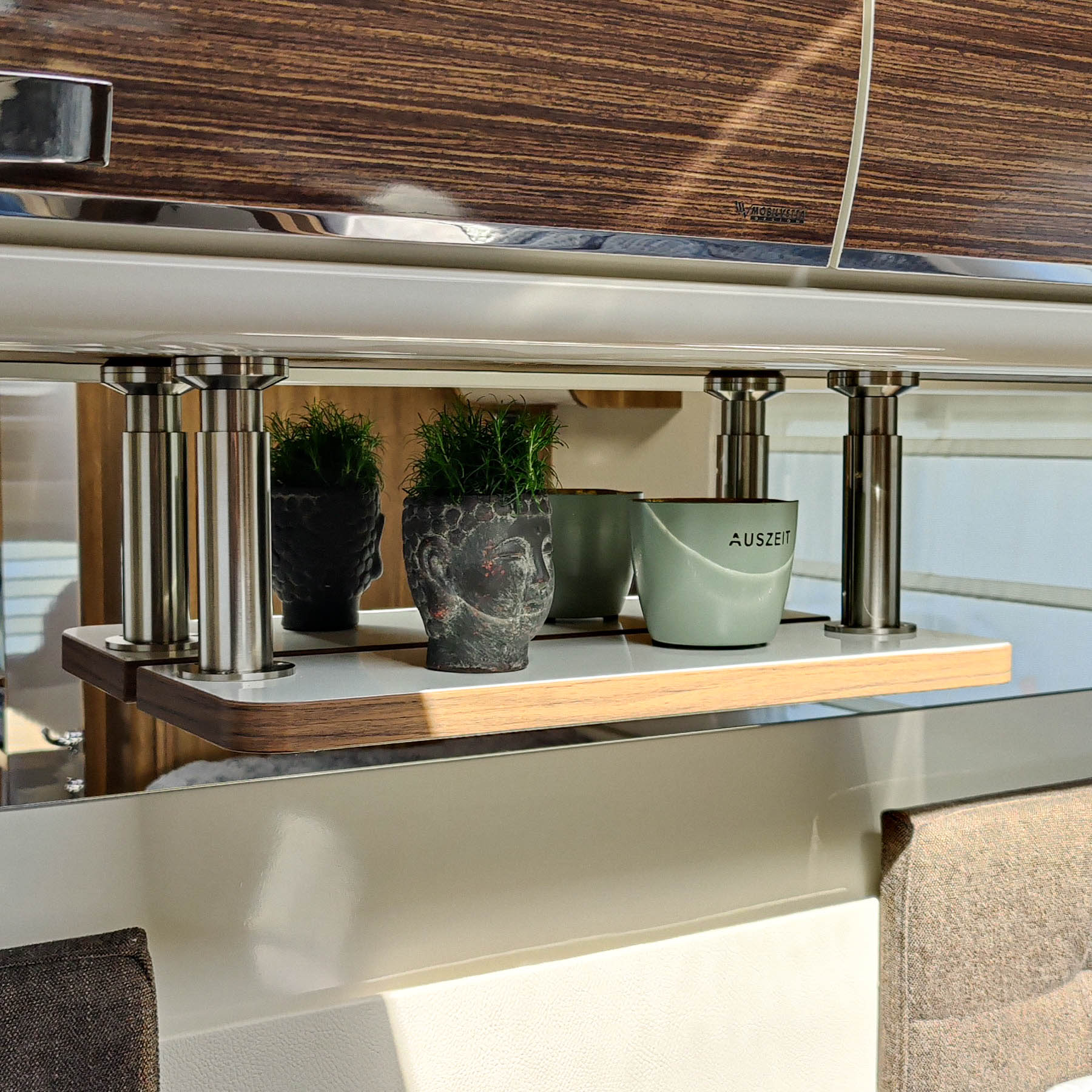 For extra storage space
Make a permanent place for everyday things in the kitchen or in the sleeping area. This way they will always be within reach.

Your vehicle is not listed? 

Not bad, maybe something works after all :-) 

Feel free to contact us via contact form or email: info@camperboards.de  

Since there are so many differences in the various manufacturers, models and years of manufacture, we need the following data / documents from you:
- Exact model designation
- Year of manufacture
- Pictures
- with and without headrests
- Without backrest upholstery, so that we can look at the seat structure
- of the interior generally because of the color design 

With the documents provided by you, we can determine relatively quickly whether or what can be installed on your vehicle. 

After receiving the data you will get a reply from us within 72 hours. 

Thank you very much. 
You are unsure about the edge color?

In the product images, the different colors should be shown and also appear in the color selection.

If you are still unsure, please feel free to contact us.
How much are the shipping costs? 

Shipping within Germany is free of charge. 
For Austria, Netherlands and France 19,90€ will be charged. 
Shipping to Switzerland and United Kingdom we charge a standard surcharge of 40€. 
Transport to Scandinavia (Norway, Sweden, Finland and Denmark) is charged with 49,90€. 
For the rest of the European Union countries we charge 29,90€ for shipping.  

Attention:Invoicing for Swiss and British customers is without German VAT.The customer must pay customs duties and import tax, which are based on the value of the goods. 
This product has no reviews yet.
This product has no reviews yet.
This product has no reviews yet.