Storage board for Mooveo T models from 2019 to 2021
Our fantastic customers keep us busy and make us a bit out of breath with orders, which currently extends our usual delivery time of one week.
Secure payment
Pay quickly and securely via PayPal, credit card or instant bank transfer
Our storage board instead of headrests in your motorhome
The storage shelf of Camperboards with screwed railing is the perfect solution to expand your motorhome kitchen.

Our shelf you can also remove with a few simple steps, if the headrests are needed during the trip instead of the storage shelf.

It can be installed with or without railing in the motorhome. You decide what suits you more.

The storage shelf can be perfectly combined with silwy® products. The metal strips adhere securely to our surfaces.
Functions of the storage board

You want more storage space in your camper? We at Camperboards offer customized solutions: Plan routes or check emails - on the storage shelf, your cell phone and tablet will always be at hand, even during the charging process. If you don't want to miss your favorite coffee on vacation, our shelf offers you enough space for the coffee maker. Flowers, books or a good bottle of wine as a beautiful eye-catcher? With the board and the right decoration, your camper gets a very personal touch.
Our storage shelf is provided with a high-quality HPL laminate. This surface is particularly resistant, easy to clean and offers a noble look that fits perfectly into the original interior.

All parts are manufactured by a regional master carpenter according to our specifications and drawings. CNC-guided work steps guarantee the highest degree of precision and dimensional accuracy.

The supporting feet show up in stainless steel optics and the edges are made of durable ABS material.

Optionally we deliver the board with our railing made of stainless steel, which can be screwed.

Colors/decors not listed are available on request.
1000 mm x 190 mm x 23.6 mm

Weight of the board complete -> 3800 grams
If you are not sure whether the board fits in your motorhome, contact us, gladly with pictures or videos. The same applies to vehicles with lift bed, because in this case it must be checked whether the railing can be installed.

All necessary components, as well as a comprehensive, illustrated assembly instructions for the storage shelf are included.
Dear Camperboards customers.

Your safety and that of your passengers is important to us!

Therefore, please dismantle our storage board in any case and stow it safely as soon as you transport passengers on the rear seats. This is obligatory and protects your loved ones in case of an emergency. Camperboards OHG does not take any responsibility in case of violation.

In addition, according to the current EU regulation, you should have the headrests mounted at your next TÜV appointment. Since the following regulation does not seem to be known everywhere in Germany.

Here is an excerpt from the REGULATION (EU) 2018/858:

"Vehicle seats may be modified without further testing provided it can be demonstrated to the technical service that their anchorages, mechanisms and head restraints provide the same level of performance."
Made in Germany
Highest quality & workmanship
Unique in Europe
Innovation from campers for campers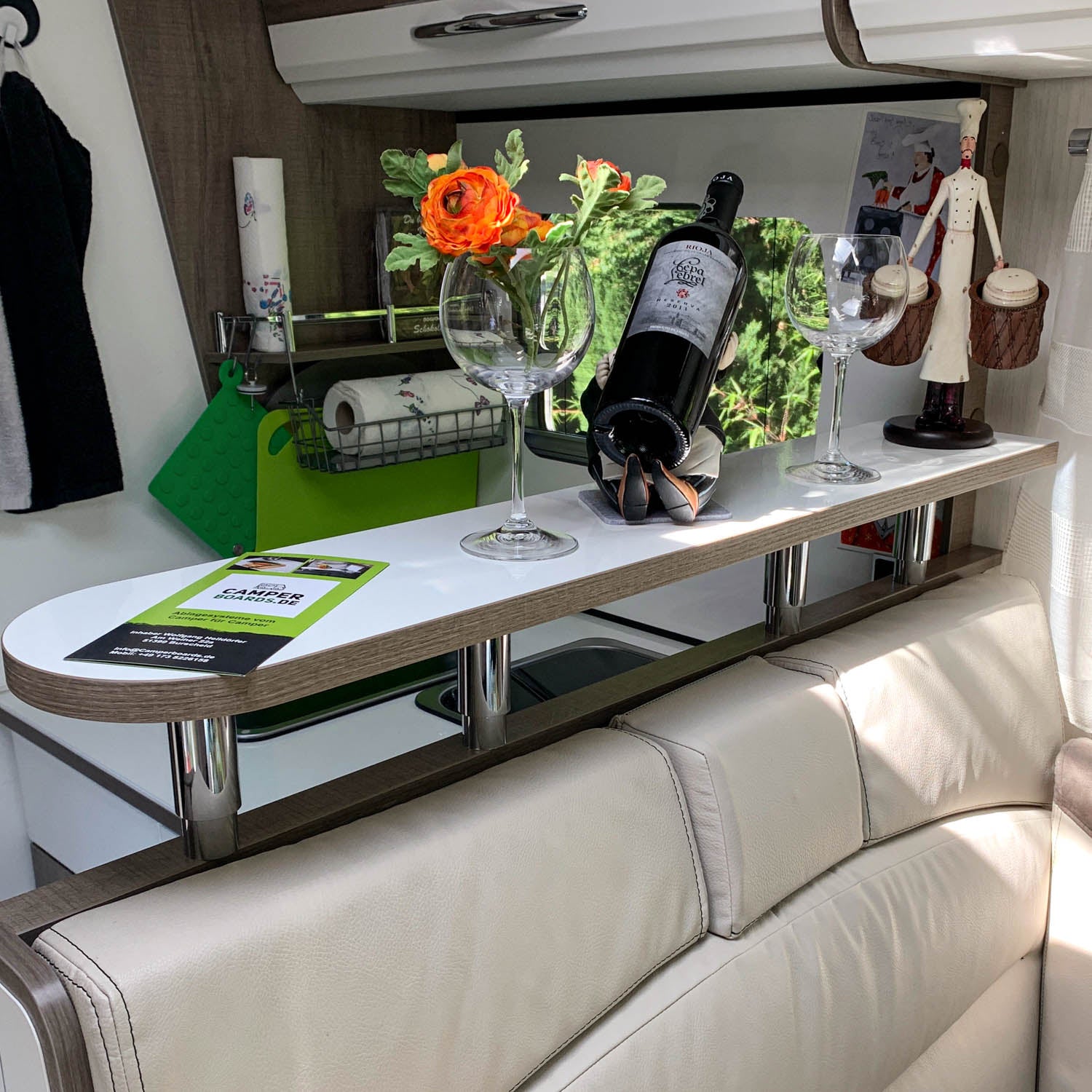 Storage board instead of headrest
So you treat yourself to even more storage space in your motorhome. The storage board provides more space with little effort and is visually appealing.
Your vehicle is not listed? 

Not bad, maybe something works after all :-) 

Feel free to contact us via contact form or email: info@camperboards.de  

Since there are so many differences in the various manufacturers, models and years of manufacture, we need the following data / documents from you:
- Exact model designation
- Year of manufacture
- Pictures
- with and without headrests
- Without backrest upholstery, so that we can look at the seat structure
- of the interior generally because of the color design 

With the documents provided by you, we can determine relatively quickly whether or what can be installed on your vehicle. 

After receiving the data you will get a reply from us within 72 hours. 

Thank you very much. 
You are unsure about the edge color?

In the product images, the different colors should be shown and also appear in the color selection.

If you are still unsure, please feel free to contact us.
How much are the shipping costs? 

Shipping within Germany is free of charge. 
For Austria, Netherlands and France 19,90€ will be charged. 
Shipping to Switzerland and United Kingdom we charge a standard surcharge of 40€. 
Transport to Scandinavia (Norway, Sweden, Finland and Denmark) is charged with 49,90€. 
For the rest of the European Union countries we charge 29,90€ for shipping.  

Attention:Invoicing for Swiss and British customers is without German VAT.The customer must pay customs duties and import tax, which are based on the value of the goods. 
This product has no reviews yet.
This product has no reviews yet.
This product has no reviews yet.